Working Meeting between SIPA Director and Representatives of the US Embassy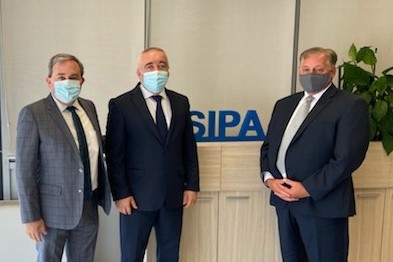 Yesterday (September 15, 2021), the Director of the State Investigation and Protection Agency, Darko Ćulum, met with the representatives of the United States Embassy in Sarajevo, Themistocles Karavites, Security Attaché and Lee Lerussi, Anti-Terrorism Assistance (ATA) Program Mentor for Bosnia and Herzegovina.
The meeting discussed the previous cooperation within the ATA Program and the trainings organized through the Program in the field of the fight against terrorism and digital forensics for police officers of the State Investigation and Protection Agency. In addition to the trainings for the police officers, the United States Government donated valuable technical equipment through the ATA Program. The meeting also discussed the modalities of future cooperation aimed at strengthening the Agency's capacities in the fight against terrorism.
The Director thanked the representatives of the US Embassy for the cooperation and donations and expressed his readiness to continue the cooperation.